TWO things made everyone sit up and take notice of young Russian Maria Kirilenko on Rod Laver Arena yesterday.
Firstly, she beat 2008 Australian Open champion and former world No 1 Maria Sharapova in straight sets in the opening match of the tournament.
Secondly, she created a sensation with the simple gesture of putting her finger to her lips late in the third set.
Was she trying to quieten down the rallying cries from the crowd for Sharapova to keep fighting? After all, Sharapova had crawled back from 4-1 down to 5-4 and only had to hold serve in the 10th game to get back on level pegging at 5-5.
But it was not to be. Sharapova was down two match points on her own serve and after saving one, she sent a cross-court forehand over the sidelines to hand victory to her 22-year-old compatriot and friend 7-6 (7-4) 3-6 6-4 in three hours and 21 minutes.
If they'd stayed on court 13 minutes longer they would have broken the Chanda Rubin-Arantxa Sanchez Vicario record from 1996 of the longest women's singles match in Australian Open history.
As it was, all everyone wanted to know was why Kirilenko had put her fingers to her lips.
Countrywoman Svetlana Kuznetsova thought she was mimicking Russian soccer player Andrei Arshavin, who was part of Arsenal's 2-0 win over Bolton in English Premier League action earlier yesterday.
"It's unbelievable. I got so many questions in the locker room, in the players' lounge. What did you do? What does it mean?" Kirilenko said.
"I don't know. Everyone can think what does that mean. Normally, it was for me actually, that everything is calm, you know."
The 22-year-old has a mature head on her shoulders.
She knows there will be much fuss made of her second career win over Sharapova (the other was in Beijing in 2005) but she is a realist.
"It's a great win, but it's only the first round I pass. It's like nothing big happens," she said.
But the 1700-plus media contingent was intrigued whether Sharapova's shoulder surgery, which forced her to miss the 2008 US Open and 2009 Australian Open, was still not giving her enough consistency on what used to be one of her weapons.
"I served big when I had to. I served big second serves," Sharapova said, rebuffing that line of questioning.
"You know, if I'm going to serve at that pace and do it for three hours and make those types of mistakes, then I'm okay with it."
Sharapova also dished out nine aces to Kirilenko's one, although she gave away 11 free points through double faults.
Sharapova also made an uncharacteristic 77 unforced errors.
"Just didn't win the match. You know, bottom line," Sharapova said when asked what went wrong.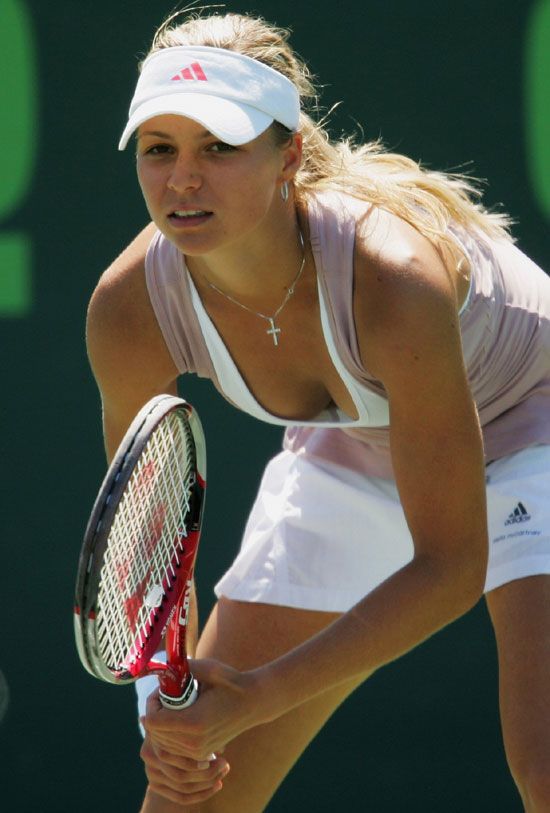 The Kirilenko camp will be riding high, especially boyfriend Igor Andreev, who is set to play his first-round match today against world No 1 Roger Federer.
"He had Federer and I have Sharapova. I think before the matches he said that we can start the year like loud," she said laughing. "And I already start the year loud, I think. So now, his turn."
Earlier another Russian winner, Dinara Safina had to defend her 2009 season, which started with a humiliating 78-minute loss to Serena Williams in the Australian Open final and ended with severe back pain at the WTA Championships in Doha.
"It was still a great season. You know, I didn't make a grand slam (win) but I still won big tournaments," Safina said after defeating Slovakia's Magdalena Rybarikova 6-4 6-4. "So, you know, every year I'm doing better. So why I even have to be sad or something?"
What will make Safina even more happier is Sharapova's exit. The pair was destined to meet in the fourth round. However, another Russian is lurking, French Open champion Kuznetsova, who swatted away Russian-turned-Australian citizen Anastasia Rodionova 6-1 6-2.
Source :
theaustralian